Venice is known for its more than 175 canals meandering their way throughout the town while separating the localities. In fact, these waterways have divided Venice into more than 100 islands, of which is the Grand Canal. Because of absence of other means of transport including cycles, canals are the lifeline of the Venetians. The variety of transport exists in forms of different water transports to travel through the canals. Let us check them out!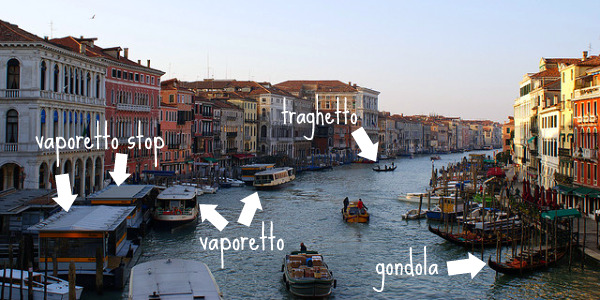 Gondolas
These transport mediums allow experiencing the local history, as this water transport is the conventional form of moving across the town. These vehicles are mostly in black and have an intricate love seat with many benches for passengers. Most visitors love being on a gondola along the Grand Canal despite featuring strong current and much traffic. However, a significant number of tourists prefer moving along the quieter canals lined with charming palaces.
Gondolieri operate the gondolas, who actually do not sing. For a ride, one first needs to reach a gondola station, most of which are near any vaporetto stop.
Vaporettos
A vaporetto forms the daily travel means on the canals. Although a normal single fare is high, it provides the most expedient way to travel from one point to another. Line 1 and 2 are famous along the Grand Canal but several other vaporetto routes make you explore most places in the town for a close up view.
Vaporettos serve bus as well as train depots, rendering easy, quick, and affordable move. They are easiest and most affordable for A to B transport. They run almost throughout the day but the frequency reduces after midnight and until early morning 6 a.m.
Water Taxis
A water taxi is in more demand over a gondola on the Grand Canal. It is a kind of small speed or motorized boat that is ideal for exploring the wider waterways or for longer travel to islands located far. While not for a fantasy experience, a water taxi makes you move faster in the forward direction. It is also a cheaper option than gondola.
Most of the Venice tours include water taxi rides from St. Mark's Square for voyaging around the borders' outside followed by along the Grand Canal and below the Rialto Bridge.
If you wish to explore Venice during winter, it is vital for you to prepare for Acqua Alta spells or period of high water. As a result, canal water floods most streets during this season. Sirens are rung to alert the people in the city when there is risk of flood levels. Gondolas and water taxis are surely unavailable on the ride.
However, there are several raised walkways in different areas of the city, which do not get affected by flooding. The good news is that the local news about the when and how much water level will be there during flooding is accurate. Therefore, it is better to avoid going during the winter season.
You can easily find some of the cool packages for Italy tours and private rome tours online.